Acura's Super Handling All Wheel Drive™ Technology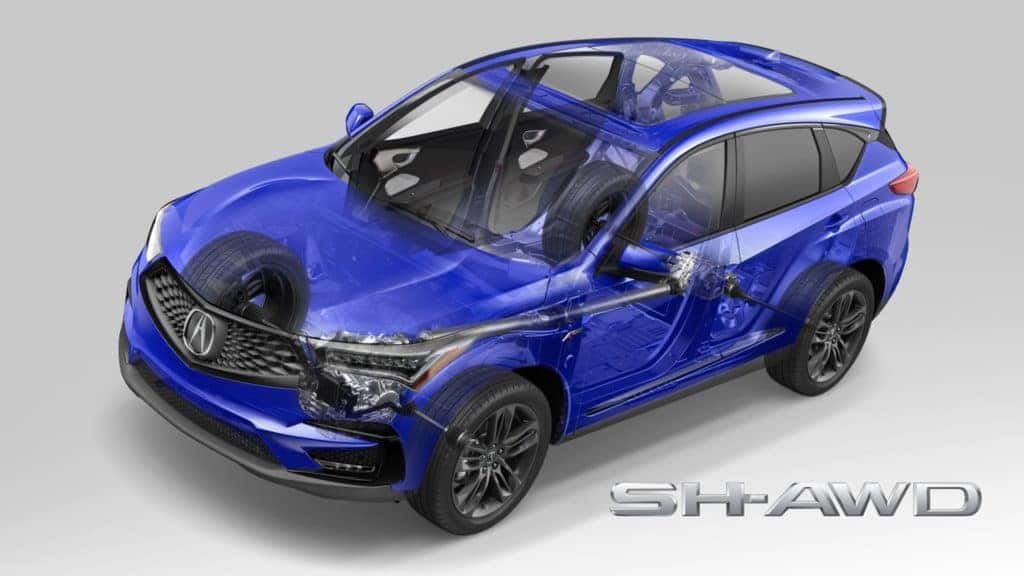 At the 2020 Chicago Auto Show, Acura will be showcasing their Super Handling All Wheel Drive™ (SH-AWD®) technology. Acura first introduced SH-AWD® 16 years ago after extensive research in "direct yaw control" that led to the world's first torque-vectoring all-wheel drive system.
Acura's SH-AWD® or Sport Hybrid SH-AWD® is currently available on the Acura TLX and Acura RLX sport sedans, the Acura RDX and Acura MDX SUV's and the Acura NSX supercar.
Acura SH-AWD® Key Highlights
Acura SH-AWD® is not just about foul-weather traction. SH-AWD® uses dynamic torque vectoring to provide more accurate and predictable handling performance in all road conditions.
Up to 70% of engine torque can be sent to the rear wheels as needed, with up to 100% of that torque apportioned to either the left or right wheels. Further, today's SH-AWD® can overdrive the outside rear wheels by up to 2.7 percent, creating additional rotational speed that helps "pull" the car through the turn with increased grip and cornering accuracy.
The 2020 Acura RDX features the 4th-generation SH-AWD®, the most sophisticated and capable SH-AWD® system yet, with faster response and a 40 percent increase in maximum torque capacity.
Acura also has an advanced electronic Sport Hybrid SH-AWD® system, as featured on the NSX supercar, RLX sedan and MDX three-row luxury SUV, using twin electric motors to provide instantaneous negative (braking) and positive torque independent of the gasoline engine.
Acura SH-AWD® History
1st Generation SH-AWD
RL (2005-2012)

The world's first all-wheel drive platform that actively and continually distributes torque not only to enhance traction, but also to elevate cornering performance. By overdriving the rear wheels SH-AWD can provide an inward yaw moment while accelerating into and through corners.
2nd Generation SH-AWD
MDX (2007-2015)
RDX (2007-2012)
TL (2009-2014)
ZDX (2010-2013)

SH-AWD is enhanced with Hill Logic that automatically adjusts the front/rear torque split based on the grade of the underlying surface as well the integration of Vehicle Stability Assist (VSA) and, in 2009, Traction Control Systems (TCS). The rear differential is constantly overdriven by 1.7 percent.
3rd Generation SH-AWD
MDX (2016-Present)
TLX (2015-Present)

The 3rd generation system uses a 25-percent lighter rear differential with reduced friction and increased yaw effect. The rear differential is constantly overdriven by 2.7 percent, providing a greater torque-vectoring effect across a broader spectrum of driving conditions to further enhance cornering capability.
4th Generation SH-AWD
RDX (2019-Present)

The newest version of Acura's mechanical SH-AWD is more compact, while offering 30 percent faster response and a 40 percent increase in maximum torque capacity.
Sport Hybrid SH-AWD
RLX (2014-Present)
NSX (2017-Present)
MDX (2017-Present)

The first and still only electric torque-vectoring system in the world to enhance every element of dynamic performance – acceleration, braking and cornering – able to apply both positive and negative electric motor torque with instantaneous response on- and off-throttle.