2021 TLX Targets Highest Safety Ratings from NHTSA & IIHS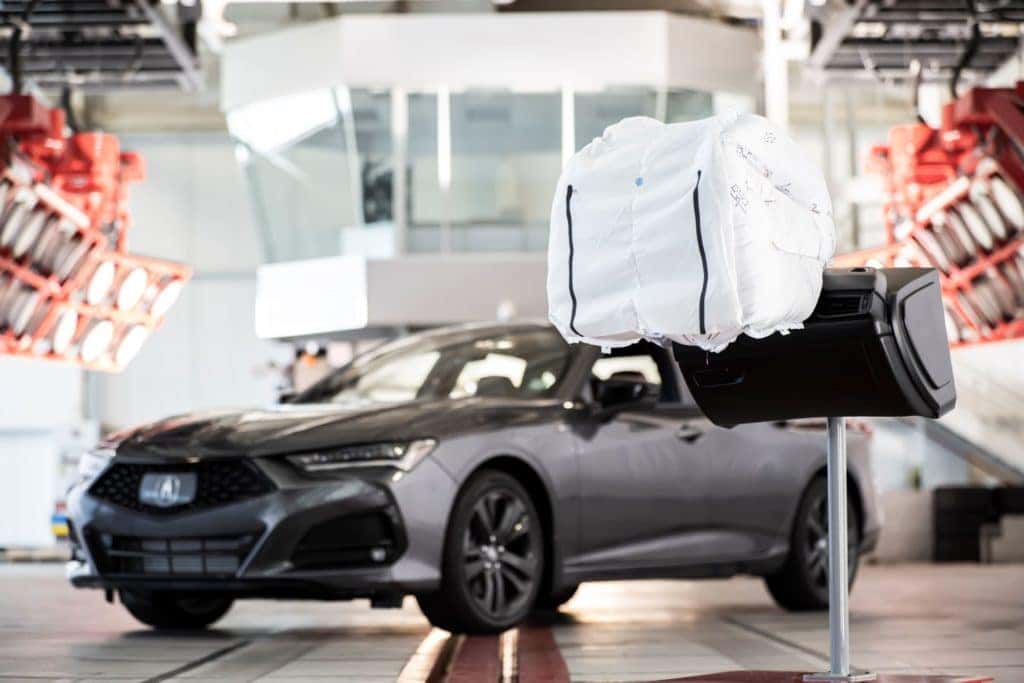 The 2021 Acura TLX adds to Acuras commitment to "Safety Through Innovation" by enhancing safety performance by introducing the world's first passenger front airbag. This airbag is designed to address the issue of severe brain trauma commonly associated with angled frontal collisions.
This next-generation airbag technology is Acura's latest advancement in occupant safety and ties back to earlier Acura innovations, including the world's first vertically deploying front passenger airbag (1991), a unique design that reduced the potential for injury from a deploying airbag.
This design was broadly adopted by the automobile industry in subsequent years. Similarly, the new front passenger airbag design first applied to the 2021 TLX this fall, co-developed by Honda R&D Americas and safety systems supplier, Autoliv, is now being offered to other automakers to enhance safety performance for their future products.
"This new Acura TLX is the latest example of our safety engineering team in Ohio pursuing important innovations to advance toward our goal of a safer and, ultimately, collision-free society," said Jim Keller, President of Honda R&D Americas, LLC. "I'm very proud of how our engineers analyzed new brain injury research and then took action to achieve one of the most substantial advances in airbag design in decades."
The 20201 TLX targets a 5-star Overall Vehicle Score from NHTSA's NCAP testing and an IIHS Top Safety Pick+ rating.
World's First Airbag Technology
The new front airbag technology in the TLX is designed to better manage lateral collision forces. It was developed in part based on a landmark study of brain injuries led by scientists at the US Department of Transportation, which resulted in the creation of the brIC (Brain Injury Criteria) methodology for measuring brain injuries in vehicle collisions.
The new airbag operates something like a baseball catcher's mitt, with an un-inflated panel first catching and decelerating the occupant's head with less force, while also directing it inward between two inflated chambers to cradle and protect the head.
Specifically, the new passenger front airbag uses four major components: three inflated compartments consisting of a center chamber and two outward-projecting side chambers that create a wide base across the dash and the un-inflated "sail panel" that stretches between the two side chambers.
The 2021 TLX is equipped with eight airbags in total, the most ever for the model, including front, side and knee airbags for the driver and front passenger and side-curtain airbags with a rollover sensor.
Advanced Safety and Driver-Assistive Technologies
All 2021 TLX models will come standard with the AcuraWatch™ suite of advanced safety and driver-assistive technologies, including multiple new or enhanced capabilities designed to help the driver avoid or mitigate the severity of a collision or help them with typical driving tasks.
Enhanced Collision Mitigation Braking System™ (CMBS™)

The 2021 TLX's Collision Mitigation Braking System uses a wider-angle forward radar sensing unit that can better detect objects ahead in the roadway, including pedestrians. With CMBS, the TLX can then warn the driver of a potential collision and, if needed, act to apply the brakes.

Driver Awareness Monitor

The 2021 TLX also includes a new Driver Awareness Monitor, which continually monitors and assesses driver behavior behind the wheel. Using input from the steering angle sensor to measure both the frequency and severity of the driver's steering inputs to gauge awareness, the system issues a warning to take a break if it determines the driver is becoming inattentive.

Traffic Jam Assist (TJA)

The 2021 TLX now includes Traffic Jam Assist (TJA), a first for TLX. Working in conjunction with Adaptive Cruise Control (ACC) with Low Speed Follow and Lane Keeping Assist (LKAS), TJA reduces driver stress in highly congested traffic situations by helping keep the vehicle centered in the lane and at a set interval from a vehicle detected ahead.
Research & Development
Much of the safety development and testing of the 2021 TLX – including the development of the new airbag – was conducted at the advanced safety research center of Honda R&D Americas, LLC in Raymond, Ohio. This safety center is one the most sophisticated facilities for safety research, development and testing in the world and includes capabilities dedicated to advance crash simulations, pedestrian safety, collision testing and advanced restraint system development and tuning.