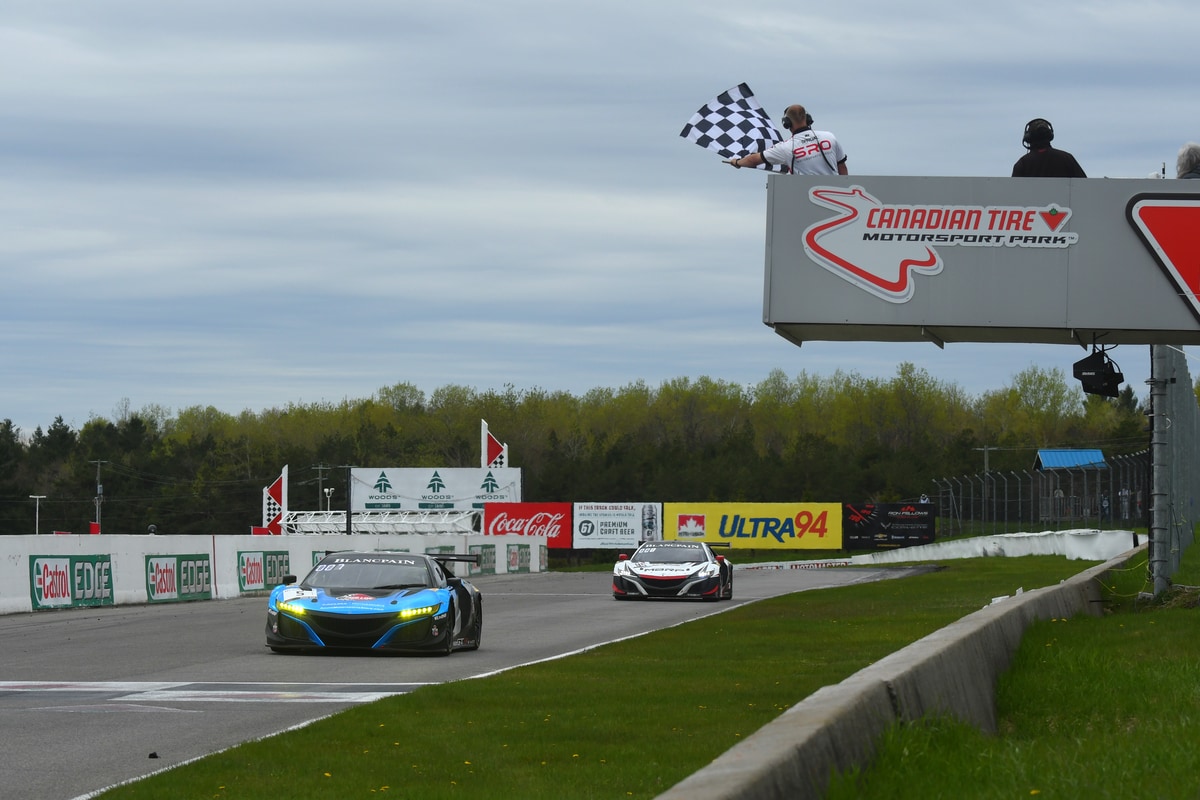 For the second consecutive SRO Blancpain GT World Challenge America weekend, Acura powered a pair of NSX GT3 Evo's to victory in the ProAm class, sweeping both races at Canadian Tire Motorsport Park, fifth and sixth rounds in the 2019 series championship.
Gradient Racing changed up its driver lineup for the weekend, with Till Bechtolsheimer joined by the returning Marc Miller in the team's Acura NSX GT3 Evo. The pairing scored the team's first Pro/Am class win of the year in Saturday's opening race.
On Sunday, the Racer's Edge Motorsports Acura of Kyle Marcelli and Martin Barkey followed with its third victory of the 2019 campaign and a popular "home track" result for the two Canadian racers.
After missing the first two weekends due to other driving commitments, Miller returned to the Gradient Racing Acura NSX for the first time in 2019. In the first stint, Bectholsheimer assumed the class lead when the Wright Motorsports Porsche pitted with a cut tire. Following the mandatory mid-race pit stop, co-driver Miller continued at the front, but had a fight on his hands trying to hold it. His competition was Marcelli, who made a late charge in his Racer's Edge NSX. Miller was able to hold him off in the final laps, taking the checkers by the narrow margin of .805 seconds to earn the win.
The Racer's Edge duo rebounded on Sunday, as the Canadian team outdistanced the DXDT Racing Mercedes AMG of David Askew and Ryan Dalziel by more than eight seconds to visit Victory Lane for the third consecutive race weekend of the season, and extend their Pro/Am class championship lead.
Meanwhile the weekend took an interesting turn for the RealTime Racing Acura NSX, which was forced to change drivers and classes for Sunday, but earned top-five finishes in both events.
On Saturday, the RealTime squad finished fifth in the Pro/Am class with their regular driver lineup of Dane Cameron and Bret Curtis. However, Curtis was contending with pain from a back injury, and following Saturday's race the injury forced him to come out of the car for Sunday's event.
RealTime replaced Curtis with Trent Hindman, who is a regular in the Acura NSX GT3 run by Meyer Shank Racing in IMSA competition. The driver change to the Gold-rated Hindman required the team to reclassify into the Pro class for Sunday's race. Finally, although Cameron had qualified on the Pro/Am pole, the team now had to start from the rear of the field.
Starting driver Hindman worked his way through the Pro/Am field during his stint, and after the mid-race pit stop and driver change, Cameron gained additional positions to finish fifth overall and in the Pro class.