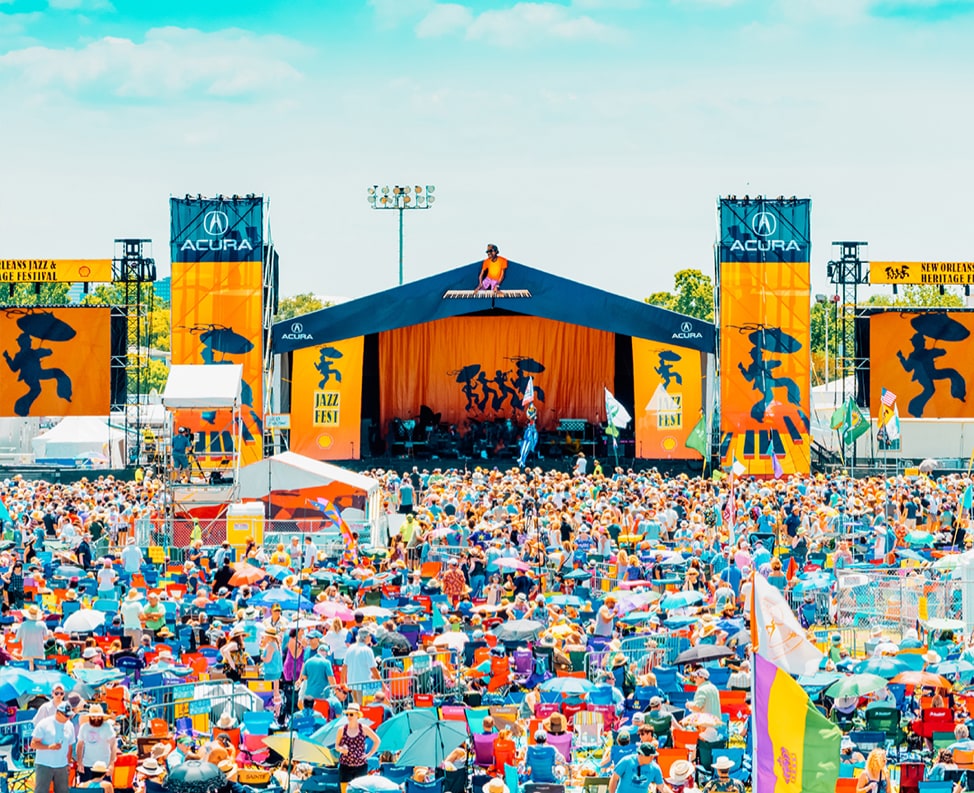 Continuing its deep appreciation and support of musical heritage, Acura returns as a sponsor of the New Orleans Jazz & Heritage Festival as the iconic cultural event celebrates its 50th anniversary. Acura also returns for the 5th year as a sponsor of the Trombone Shorty Foundation, and this year, as presenting sponsor of "Shorty Fest," Foundation's largest fundraising event on Wed., May 1. The Acura Stage at JazzFest will once again be the festival's main stage with a lengthy list of legendary performers for 2019, including The Doobie Brothers, Earth, Wind & Fire, Santana, Bonnie Raitt, Jimmy Buffett & The Coral Reefer Band and Trombone Shorty & Orleans Avenue with Nevilles.
Festival goers can visit the Acura Product Experience Tent, where the brand's full model lineup of performance luxury SUVs and sedans will be on display, along with the opportunity to take complimentary photos in front of a New Orleans landscape backdrop and a chance to win access to Acura's exclusive VIP Lounge. The Acura Product Experience Tent is open to the public both weekends, Thurs., April 25 thru Sun., April 28 and Thurs., May 2 thru Sun., May 5.
Investing in the Future of Jazz Music
Building on Acura's relationship with the New Orleans Jazz & Heritage Festival, Acura is, again, the automotive partner of The Trombone Shorty Foundation. started by iconic singer, songwriter and producer Troy "Trombone Shorty" Andrews. Acura's sponsorship of the Foundation helps support traditional jazz music education, instruction, mentorship and performance in New Orleans, empowering young musicians to continue the musical traditions of the jazz legends before them.
Most recently, Acura sponsored a group of twelve musically gifted students from The Trombone Shorty Academy with a visit to Los Angeles. Equipped with MDX SUVs to get around town and GoPro cameras to commemorate their visit, the students met with professional agents in the music industry, practiced with the USC marching band, played a private performance at the American Honda Motor Co., Inc. headquarters in Torrance, California and even performed at the Acura Grand Prix of Long Beach.
Award-Winning Acura Sound Systems
Acura's commitment to music includes the brand's precision crafted product design that turns each vehicle into its own sound studio.
Acura's award-winning ELS Studio 3D™ premium audio system debuted on the 2019 RDX and was developed through a collaboration between Acura and Panasonic and tuned by eight-time Grammy® award-winning recording engineer and music producer Elliot Scheiner. The available critically acclaimed Acura sound system brings the quality and dynamic range heard in recording studios to the comfort of Acura vehicles through a 16-channel, 16-speaker, 710-watt system featuring four ultra-slim Highline™ ceiling-mounted speakers. The ELS Studio 3D™ premium audio system enables both drivers and passengers to experience the feeling of studio-quality sound throughout the vehicle, delivering incredible fidelity and dynamic range while adding a new dimension of sound to the listening experience.
The New Orleans Jazz & Heritage Festival begins Thurs., April 25 and runs through Sun., May 5. For the full lineup of artists and more information on the New Orleans Jazz & Heritage Festival, visit www.nojazzfest.com.